Rec.arts.books home page
This page:
FAQs | Posts | The R.A.B.ble | Links to Related Pages
Frequently Asked Questions (FAQs)
Posts to Rec.arts.books
Current postings to rec.arts.books (This link requires that your browser is correctly set up to read a news feed. Ask your ISP or institution how to do this.)
Or read new and old postings at Google (formerly DejaNews)
Regular R.A.B.ble
"The regulars are the blabbermouths."
"Nearly all the regulars on R.A.B. might be considered cranks of one kind or another."
-- Paschal
---
Why isn't the Jolly Roger listed here?
---
This page is dedicated to my wife, "my first favorite"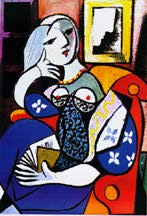 Picasso's Woman with a Book
---
If you are a r.a.b. regular with a home page that's not listed here, let me know.
Links to Related Pages
If you like this page, you may like: